The Everything 12-in-1
The Everything Pot replaces 12 pieces of cookware (when paired with The Non-Stick Steamer), saving space in your kitchen and money in your pocket.
Deep Fry
With over 4" of depth for deep frying, nothing will stand in the way of your cooking creativity.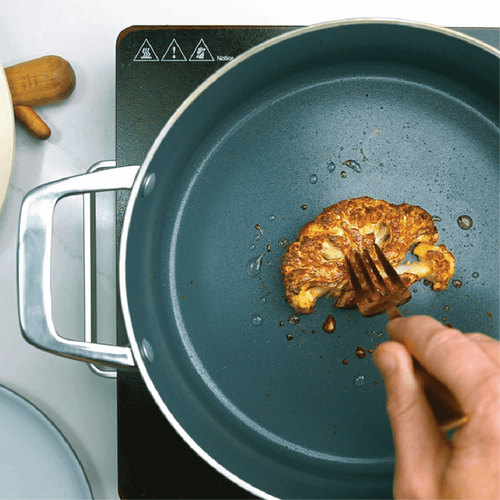 Sear
Fast and even heat distribution makes for a quick sear that locks in flavour, ensuring crisp and tasty food every time.
Stew
With 5 quart capacity, the Everything Pot is the perfect vessel for your soups and stews.
Sauté
The glass-like non-stick surface makes it easy to stir and toss food when cooking—less oil required!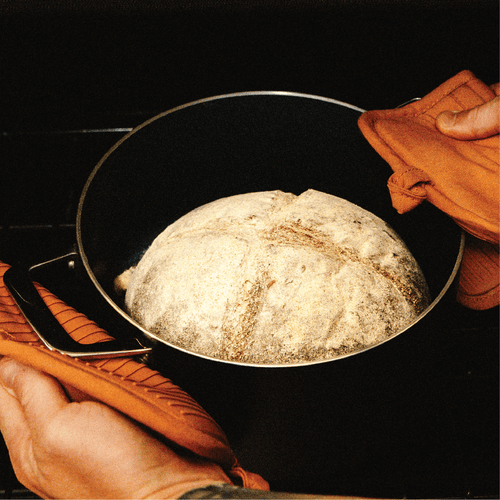 Bake
Oven-safe with the lid up to 480°F (750°F without), the pot also functions as dutch oven.
Braise
The lid's self-basting dots return moisture to the food as it cooks—no dry, tasteless food here!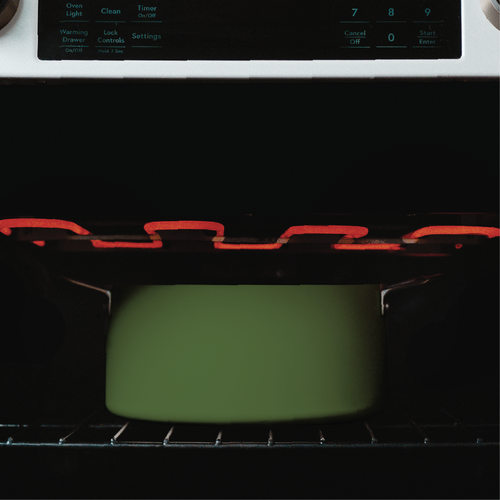 Broil
The pot alone is oven-safe up to a whopping 750°F, so you can finish off your dish with a nice broil.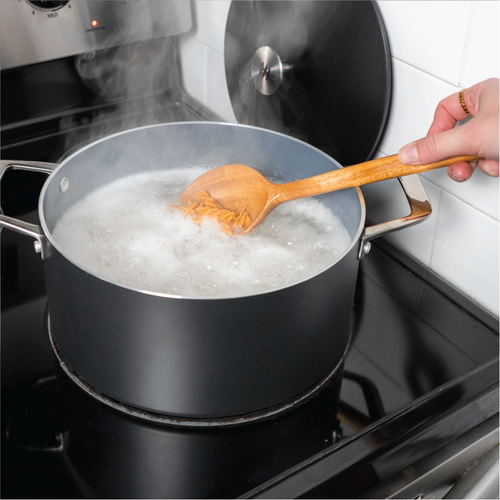 Boil
From a slow simmer to a rolling boil, the Everything Pot is up for any cooking creation you throw into it.
Roast
The domed lid combined with the deep pot is ideal for pot roast, roast chicken, and more.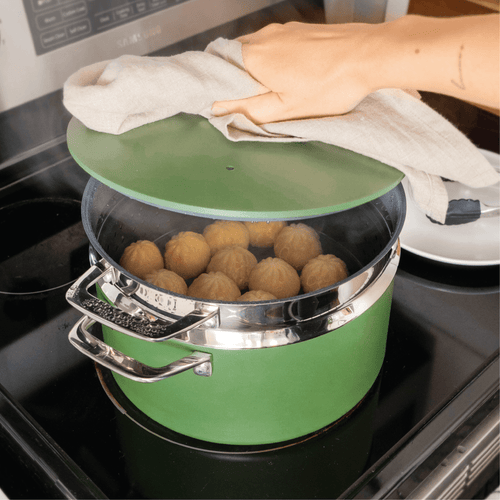 Steam
Paired with the steam-release hole on the lid, the Non-Stick Steamer is the perfect sidekick for steaming veggies, dumplings, shellfish, and more.
Strain
The dual-purpose, stainless steel Non-Stick Steamer is designed to be a perfect fit for mess-free steaming and straining.
Serve
Beautiful enough to serve dishes straight from the kitchen to your table, while also looking great on your stove when not in use.


What People Are Saying
In love!
"I already have the Everything Pan and use it almost daily, so it was a no-brainer for me to try the Everything Pot! So far I've made a few different recipes in the Pot and absolutely love it! Investing in a cookware piece like this saves time want money for sure."
The Everything Pot
"I absolutely love this pot and steamer. I'm a huge fan of Kilne as I already own their pan. It cooks food beautifully and I have always had AMAZING customer service!"
So in Love!
"We are so thrilled with the new EverythingPot! It's as good as our Everything pan and lives up to it's name – we use it for everything!"
Best non-stick pot!
"This cleans SO WELL. I've cooked so many dishes that usually are difficult to clean (cheese, honey glazed chicken, etc.) and instantly it cleans right off. I've also noticed it heats up faster than my other pots! Makes cooking so much more enjoyable!"
The Everything Pot
"Love this! Cooks perfect meals every time and so easy to clean!"
Everything Pan/Pot & Steamer
"High quality, lightweight. Best set we've ever had! We don't ever cook with oil and this cookware makes life so easy. Highly recommend"
Shop Now