The Everything 9-in-1
The multi-award-winning Everything Pan replaces up to nine pieces of cookware, saving space in your kitchen and money in your pocket.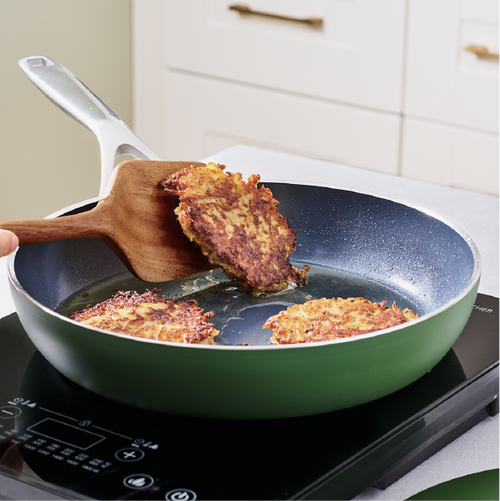 Fry
With over 2 quarts capacity and just over 2" deep, pan frying and deep frying are a breeze.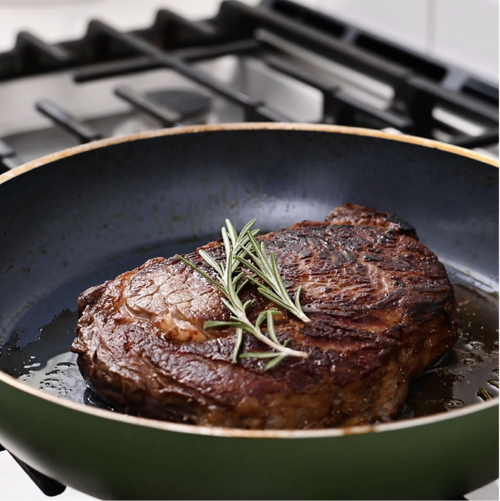 Sear
Fast and even heat distribution makes for a quick sear that locks in flavour, ensuring crisp and tasty food every time.
Sauté
The glass-like non-stick surface makes it easy to stir and toss food when cooking—less oil required!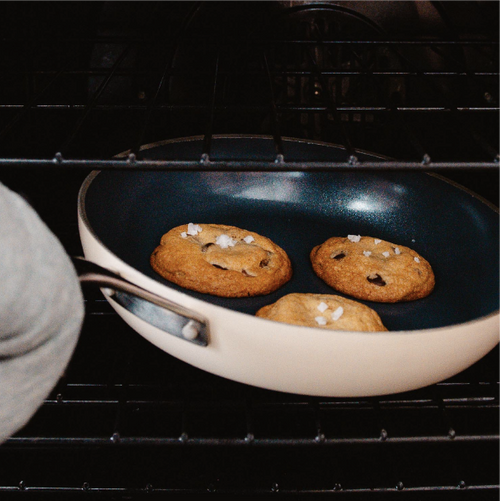 Bake
Oven safe with the lid up to 480°F (750°F without), the pan also functions as a baking dish.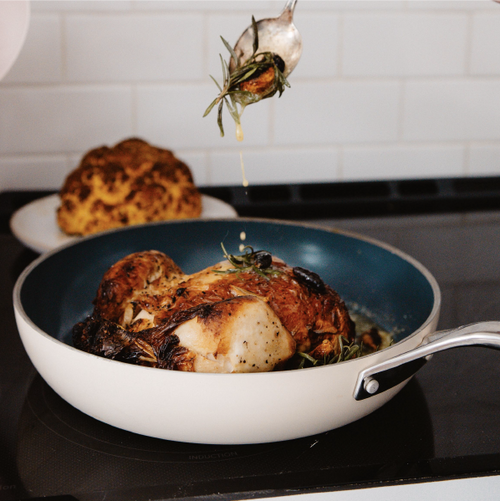 Braise
The lid's self-basting dots return moisture to the food as it cooks—no dry, tasteless food here!
Broil
The pan alone is heat safe up to a whopping 750°F, so you can finish off your dish with a nice broil.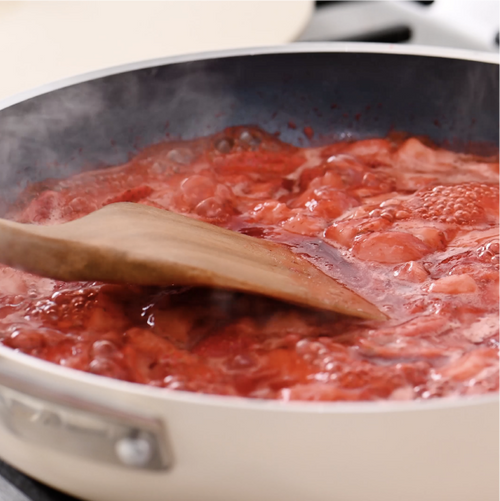 Boil
The versatile depth of the pan means you can boil water for pasta or whip up your favourite one-pan meal.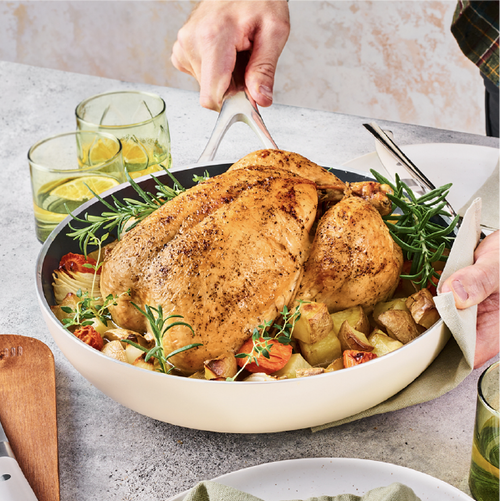 Roast
The domed lid combined with the deep pan creates enough space for even a roast, making for more cooking versatility.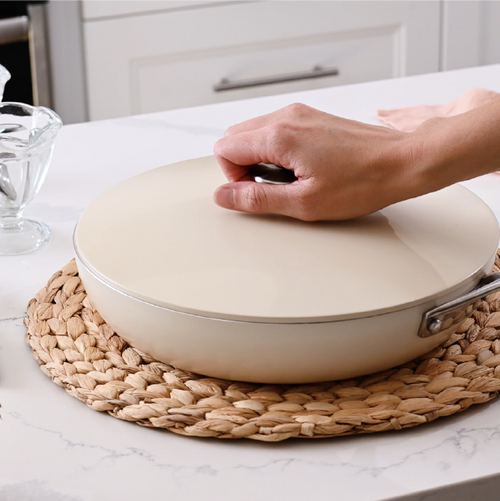 Serve
Beautiful enough to serve dishes straight from the kitchen to your table, while also looking great on your stove when not in use.


"This Everything Pan is fantastic. It's a 10/10 cooking experience. A beautiful pan that lives full-time on my stovetop."

"From the stylish design to its incredible functionality, the Everything Pan is a well-rounded kitchen tool that will save you time and reduce the amount of oil you use in your cooking. I highly recommend giving it a try."

"There's a reason why The Everything Pan has gone viral—it's the perfect non-stick homebase for any dish!"

"The pan is made in Italy and has a beautiful matte colour finish. It's even non-stick so you're not spending FOREVER trying to clean your dish after a meal. It would be a perfect gift for first-time homeowners."

"If you live in a small space like a condo, this is the perfect option to replace other pots and pans that you don't reach for or that may be taking up space. I leave this pan on my stove top as part of my décor."

"True to its name, this pan has done, quite literally, everything for my cooking game (without worry of plastics, heavy metals, or toxic chemicals). [It] is so beautiful, I leave it on the stove even when I'm not cooking."
Save $10 on the Wooden Utensil Set when you buy an Everything Pan. Automatic discount at checkout. Wooden Utensil Set must be manually added to cart.
Compatible with all stovetops, including induction.

Longer lasting non-stick, sustainably produced in Italy.

Oven and stovetop safe up to 400°C/750°F.

Non-toxic (free from PFOA, PTFE) and eco-friendly.
The multi-award-winning Everything Pan is the perfect non-stick go-to for any dish—day and night—from a simple fried egg to a simmering sauce or quick one-pan meal.
Features
Sustainably produced in Italy
Patented long-lasting non-stick ceramic coating
Replaces up to 9 pieces of cookware
Fry, sauté, sear, simmer, roast, bake, boil, broil, roast and more! 
Easy-clean, lightweight & durable
Non-toxic (free from all PFAs, including PTFEs, PFOAs, nickel, and heavy-metals)
11-inch diameter
2.75 quart (2.6 litre) capacity 

Matte colour finish
Matching self-basting lid 
Winner of the 2023 Best New Product Award & 2023 Red Dot Award: Product Design.  
Note: Use caution! Both the pan handle and lid knob will get hot with prolonged stovetop use and when used in the oven. Use oven mitts or a tea towel when handling.
Free Shipping Across US & Canada
+
-
Orders typically ship within 2 business days and arrive within 5 business days. See
Shipping & Returns page
for more information.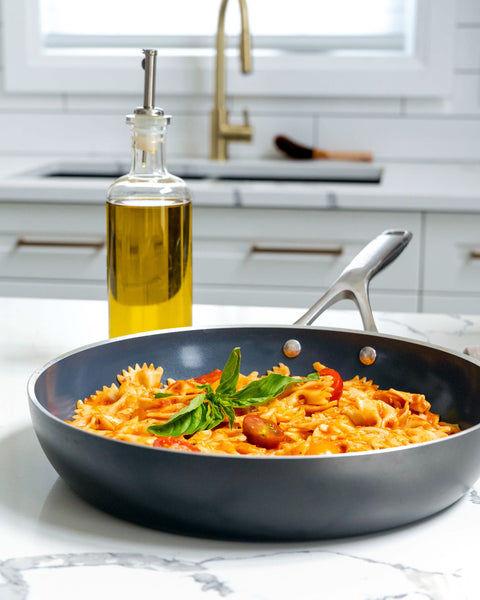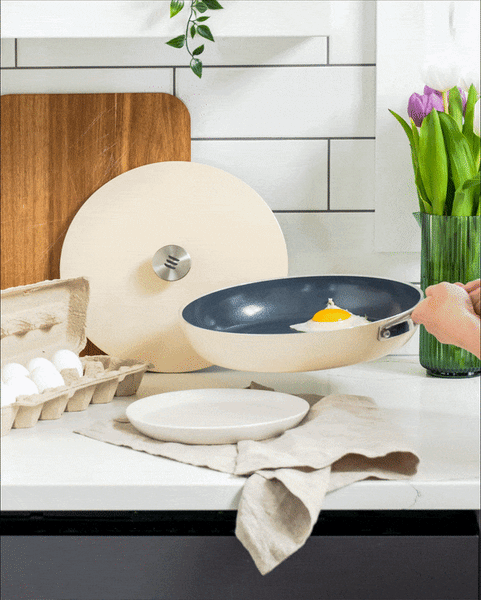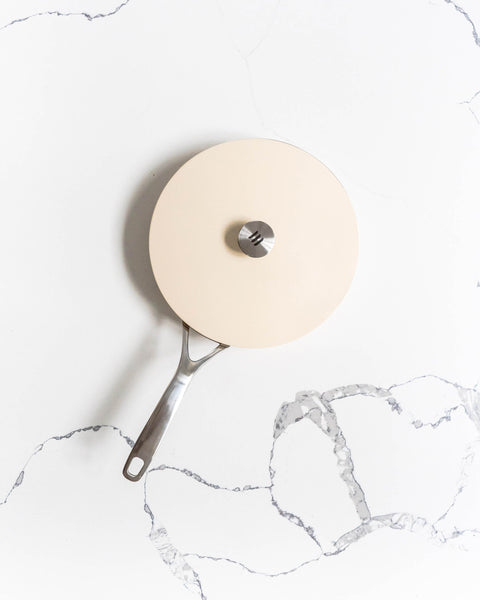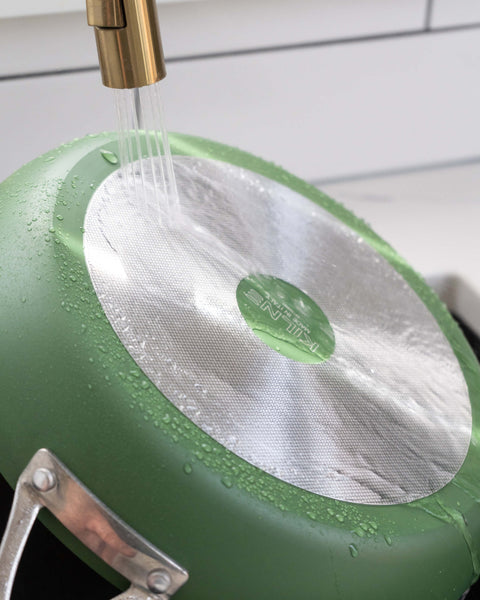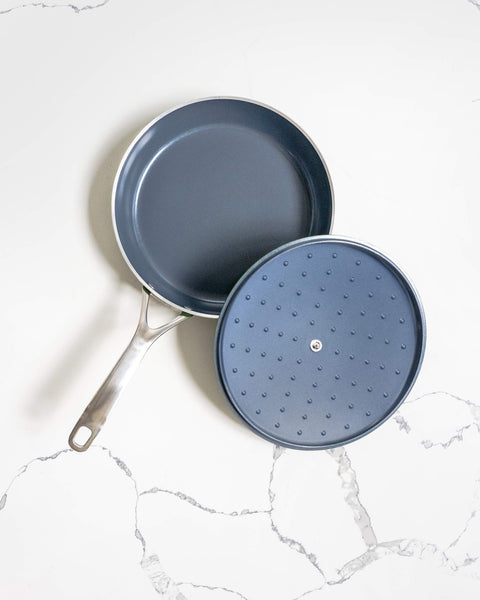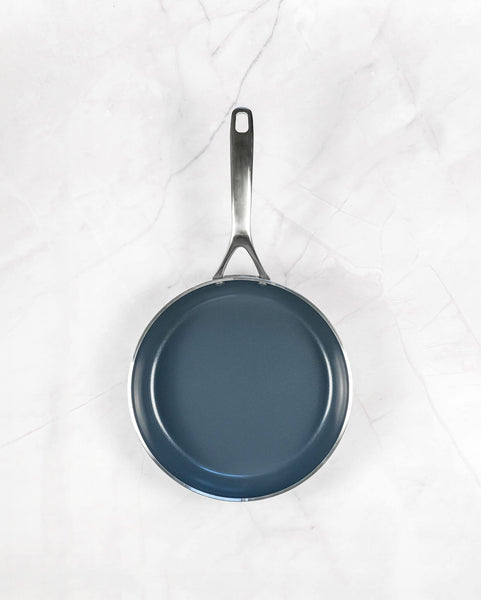 Free Shipping

100-Day Trial

10 Year Warranty
What People Are Saying
We love our Everything Pan!
We love our Everything Pan. In fact, we love it so much that we bought a second. The non-stick is fabulous for both cooking and clean-up. Totally worth the money.
Exceeded my expectations!
"I was concerned the size of the pan would be too small but surprisingly it's perfectly fine for our family of 4! I keep it on my stove top as decoration as it's so pretty and also because I use it daily so no point in putting it away. Lol."
Love this Pan
"Love everything about this pan. Perfect for every day use. Beautiful design. Not too heavy and food cooks so nicely without sticking. I have already recommended to a friend who is looking for a versatile, safe and non-toxic non- stick pan. Reasonably priced too!"
Excellent, beautiful Everything Pan
"Cooks things beautifully; no sticking! I also love the Sage Green colour of the pan and the weight, it feels so well balanced. Great buy."
This pan is EVERYTHING!!!
"Great quality... holds/distributes heat evenly... I feel like it cooked my food faster than when I did it in my old pan. Highly recommended!"
Love It!
"It has lived up to expectations…everything it says it does is true…and the easiest clean up ever. I love this pan!!!"
Very happy with my Everything pan
This is the most expensive pan I've ever purchased and now I see why it is worth spending more! Great quality, love that it has a lid, heats up fast using med-low heat, clean up is easy- no need to put in dishwasher even though it is "dishwasher safe", designed in Canada and made in Italy, the sage green is very attractive and unique colour!
My beautiful sage coloured pan
"We bought the Kilne Everything pan to replace the non-stick we owned that wouldn't work with our new induction range. It works well and adds a beautiful pop of colour to our kitchen. Easy to recommend adding this to your cooking quiver."
Outstanding and quality
"You will not be disappointed. The pan is excellent. I'm so glad I purchased it because not only does it not contain harmful chemicals, but it is excellent quality. Please design more pans and pots. I will buy them!"
Everything it's advertised to be!
"I have tried my pan several times now and each time I'm amazed at how fabulous it is. I have to re-learn my cooking procedures to account for how well the non-stick performs. May get another one very soon."
Awesome nonstick skillet
"Very nice looking pan with lid. I've only used it a few times but it is totally nonstick and heats evenly. I wanted to get a nice crispy outside so I cautiously turned the heat to medium high for a few minutes. It worked great"
Love It
"My pan arrived earlier this afternoon. It is absolutely gorgeous…we made pork chops in it this evening and it is amazing for sure just as promised! kept the heat in for a long time, and the cleanup was a breeze. My new favourite for sure. Very highly recommending it!"
Great everyday pan
"I used this pan for everything. Pasta, frying eggs, stirfrying, curries. Amazingly versatile and my go to pan. Beyond being very functional, it is also very beautiful!"
Everything Pan
"OMG, how did I not know about these products!! The E-Pan is such a classic. It's great for, well everything. I've cooked meat, fried eggs, made a casserole even pancakes! Brilliant. Since I purchased mine, my friends have become very interested in them too."
Best pan I've ever used!
"I don't know how I ever cooked without this pan! I love the way it looks on my stovetop and how well it cooks literally everything!!"
Shop Now